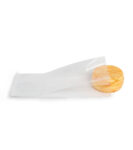 Vacuum bag with bellows
Vacuum packaging bags. The bellows gives the advantage of a better use of the bag avoiding "ears" in the finished product. Compared to flat bags, it has a smaller width, allowing the bag to better wrap the product inside and to use more bags in the vacuum bar.
High transparency and elasticity
Customizable with your logo printed on the back
Already printed with all the legal indications
In PA/PE material with a thickness of 100 my and 145 my from coextruded membrane film composed of polyamide and polyethylene sealing layer. High quality material that gives it a particular transparency and elasticity.
The gusset is in proportion to the width of the bag. The welding is in the lower base and central in the back. Particularly resistant to the edges of aged cheeses. It can be used in all hood packaging machines but also in those with external suction. Available in three sizes to hold cheeses from 500g up to peaks of 2kg of seasoned cheese.
The manufacturing company is ISO 9001-2008 and ISO 14001-2004 certified. Technical and safety data sheets and certificates for contact with food available.
Customizable with prints up to 2 colors with your data on the back.
| | |
| --- | --- |
| size | 120+70X300 TIT.100 mµ, 130+80X350 TIT.145 mµ, 150+110X400 TIT.145 mµ, 150+90X350 TIT. 100 mµ, 150+90X350 TIT.145 mµ, 170+115X450 TIT.145 mµ, 200+140X450 TIT.145 mµ, 260+140X700 TIT.145 mµ, 420+230X640 TIT.145 mµ, 450+170X750 TIT.145 mµ, 90+45X300 TIT. 100 mµ |
You may also like…
Cheese packaging, Vacuum bags for food, Articles for the dairy point of sale
The delivery of products is free throughout Italy.
If you have choosen the wrong size, the change is guaranteed quickly and free of charge.
We deliver by courier throughout Italy in 24/48 hours.
A team of experts at your disposal to find all the solutions.
An infinite range, for all the needs of those who produce and sell cheese.